Our experience is that Christianity changes lives.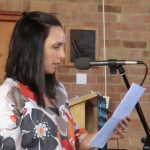 Flavia, one of our fellowship, was baptised recently. Baptism is a very special time when a believer publically affirms that they follow Jesus Christ and the whole church supports them in prayer.
Listen to Flavia as she talks about why she became a Christian and why she wanted to be baptised.
See here for more information on baptism, and more photographs.
---
Further afield there are many examples from across the internet of life changing experiences. Have a look at these five short examples, all taken from the MyStory website:
---
If you would like to start this journey then click here:
If you would like to read some short thoughts from a member of our fellowship then click here:
For a different Bible study every day, click here:
If you are Deaf, click here:
---